Christmas Gift Guide - Mindfulness and Wellbeing
Christmas... doesn't it seem to just creep up on us each year? In just a few weeks' time we'll be with our family and friends, exchanging gifts, glass of bubbly in hand, debating over which Christmas movie is the best and arguing that someone is cheating at monopoly (because we all know there's one in every family) and, that's all before Midday!
So, before we relax, let's get a head start on the Christmas shopping list!  I'm sure I'm not alone when I say I've only just started my shopping (please tell me it's not just me!). So let's get those inspiration clogs turning for those special gifts for the ones we love.
First up on our gift guide, we focus on wellbeing and mindfulness present ideas.  A few from my shop and other small businesses and brands I personally adore.
1. Gratitude Notebook/Journal
One of the most thoughtful gifts in my book (no pun intended) is a new notebook for writing gratitudes and journaling.  Not just for Christmas, these books get so much use over time and form good habits for the new year ahead, releasing troubles, worries or happy thoughts to paper. This beautiful gratitude notebook by KINSHIPPED is available here on TLHC website at £20.00
2. Scented Candles
They say, that candles are the magic door to transport you to your favourite place in the world, or trigger certain memories or moments.  They also have an incredible effect on your senses and can aid in calming or uplifting your mood (from the essential oils). The following candles are from my favourite brands, big and small. Gift Tip: Pair with a box of our luxury matches and wick cutters for the perfect little gift box!
SVAR:ØG: Fireside - topped with frankincense, paired with amber & moss. Available here on TLHC website £18.00
Glass & Wick - Nordic Spruce - spruce, pine, eucalyptus and cedarwood, smells just how a real Christmas tree should! Available from Glass & Wick website £19.95 and plant 2 trees with your order.
The White Company: Winter, mini home scenting set. I think this will always be a favourite of mine during the festive season.  Available on www.thewhitecompany.com £32.00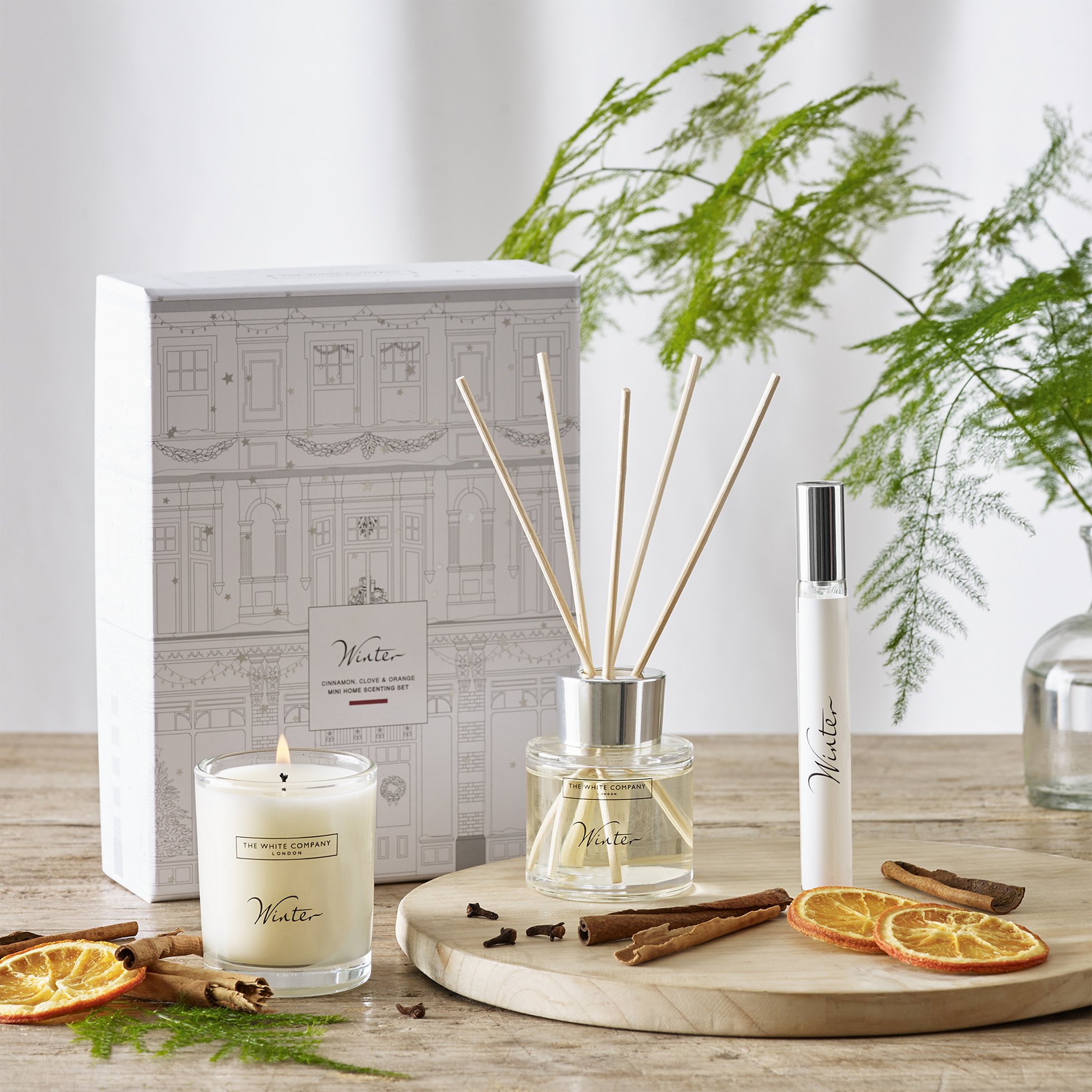 3. Hot/Cold Therapy Eye Pillow: Meraki
Organic therapy eye pillow, a calming way to relieve any build up of stress. Filled with pillow stuffing consisting of clay beads and an organic flax and cotton upholstery.  It can be used with heat by warming in the microwave to sooth tension, headaches or muscle aches, or pop it in the freezer for a cooler feel. Available on TLHC website here £11.00
4. Camellia Cup and Tea - because we all know, everything seems better once you have a brew. Why not team up our beautiful Camellia Tea Cup (£12.00) with a box of speciality tea?  We have some beautiful blends on their way, do contact us if you'd like to know more.
 5. The Mini Hyggemas Box - for anyone who needs a moment of calm, self care and a boost to their well-being, our Mini Hyggemas Box would make a lovely gift, full of self care treats. £45.00
I hope you find this post useful and it helps to get those cogs turning! If you would like to share some of your own ideas do drop a comment below!
Header image: Credit SVAR:ØG Candles 
---